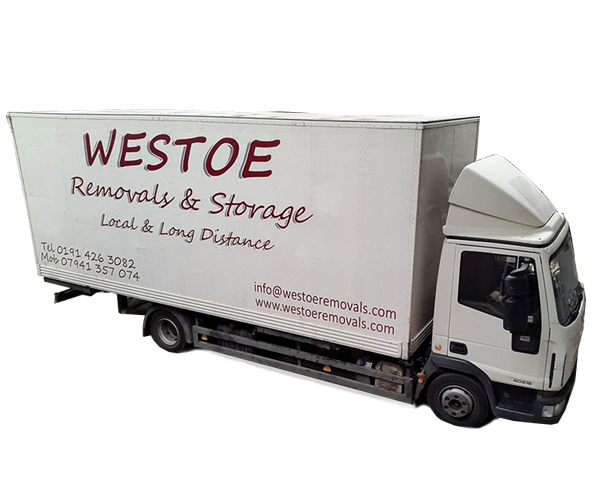 Packing boxes are available on request to help you with your move.
Single items such as sofas, fridges or washing machines to full houses as well as business and office relocations are all catered for.
Our larger vans make us more efficient which means a quicker service and less stressful moving experience for you.
Westoe Removals offer removal, packing and storage services both locally and throughout the rest of the UK.
Our experienced staff and larger vans give the highest quality service, whether you're moving a single item a few streets away or your full house across country.
We know moving can be stressfull, so we aim to make your move as stress free as possible by promising a reliable, professional and customer friendly service right from the very first time you call us.
Single items to full house removals both local and national.
Domestic removal services
Our domestic removals service cover everthing from a single sofa to a full house. We're physically fit too, so you won't hear us complaining that you live on the top floor, no matter how many boxes of books you have for us.
Sinlge items to full houses
Local and long distances covered
Boxes and packing materials on request
Packing services available
Storage options if needed
We also offer furniture and bulky items store collections and delivered to your door or our own storage facilities from delivery to your door at a later date. This ideal if you see a bargain but aren't quite ready for it, we can collect and store it safely for you, until the time is right for you.
Call us on 07941 357074 for a quote or to discuss your removal needs.
Alternatively send us a tet message and we'll call you straight back or at a suitable time for you.
Commercial removals
If you're moving your business, you need a reliable, punctual and efficient service. They say time is money and we understand how important it is that your business is relocated and up and running again as quickly as possible.
It's our goal to give you the very best business to business service and to make sure your downtime is kept to an absolute minimum.
Our storage option is ideal for your retail stock or archived paperwork.
We cater for all sizes of business from retail to office, our packing service is ideal for ensuring a quick relocation, and our storage option is and extra help if you have a lot of stock you'd like temporarily stored in a safe place. If you're downsizing office space and need somewhere to keep that paperwork we can look after that too.
We are licensed waste and scrap metal collectors.
Call us on 07941 357074 for a low cost quote today.